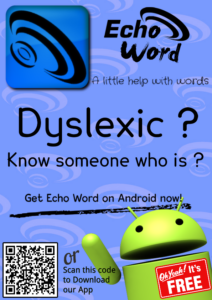 Echo Word was made by someone with dyslexia to help with day to day life, and would like to help all dyslexic and non dyslexic alike, in a world with words.
Hello, my name is Paul and I struggled with dyslexia for years, so I made this app for myself, but had friends tell me I should send it out into the world to help others!
So with a little tidy up, to make it look nice for you guys and a couple of tweaks from feedback I got, here it is! Hope it helps many of you out there.
This app helps me most days in my work life. It's great for helping me spell the words I want to use and also pasting my emails into so I don't need to read them myself, where reading them takes me longer than most people to do.
Echo Word is an app to help people of all ages with words. This app is not a spell checker, but instead, uses your own voice and a speak back function to display the word you may be after, also it can read words that you copy into the text box.
Try typing a word or whole sentences you can't read off a letter, sign or poster, then have your device read it back to you!
Why not try copying and pasting an entire E-mail or text from a website into Echo Word and have it read to you for ease!
It works with whatever language your device is set too, so if you have family, friends or even a pen pal somewhere else in the world, let them know about it. If you're a teacher, show the children in your class, or the whole school! There may be a child struggling in silence that you can help. And don't forget the parents, who find it hard to help their children with homework, if you have a newsletter, put it in there too! The more people we can help the better.
This app is only on Android devices and it's FREE! Just go to the Google Play Store and search for Echo Word or click this link:
https://play.google.com/store/apps/details?id=appinventor.ai_paul_felton82.EchoWord
Category: Apps/Accessories, Dyslexia, Freebies, News