Brain Magic is a stories-based times tables course that gets children with dyslexia &/or dyscalculia to memorize the entire times (multiplication) table in just a matter of hours.
The parent of a child living with dyslexia & dyscalculia who used these math stories to memorize the times table in a single weekend, had this to say:
"My 10 year old daughter is a very visual learner and she picked this method up extremely easily. She enjoyed herself as well, and really enjoyed being successful! As she has dyslexia and dyscalculia this was a real confidence booster for her. Just yesterday she had trouble telling the time on an analog clock and I told her to multiply 7 by 5 minutes (she was trying to count it up) and with only a split second later she told me it was 35… When she realized how quickly she can get the correct answer the smile on her face was absolutely priceless!" Melanie Ledger, Mila's mom, Vancouver, Canada
Elementary school teacher (and Canada's current #2 ranked memory competitor) Darren Michalczuk, used his mnemonic experience to develop these math stories as a way to teach children in his own class who were having difficulty with math. And he's been refining them for the past 20 years.
"Going through 20 years, you come across every single kid, and it just feels like I've kind of done the rotation and seen every disability, or learning disability, or problem that a kid's come across, and these [stories] have just blanketed every problem that I've come across, and have brought the kids out of that area where they were frustrated and crying, and it's just brought them up to a different level." Says Darren.
These are the basics of how it works:
Bran Magic has given each question in the times table it's own 30-second story (9×3 has its own story, 6×7 has its own story, etc..).  And in each story are objects that represent both the question and the answer.
To recall the answer to any math fact, a child listens to it's funny story, is explained the very logical association, and voila!  To recall a math fact all the child has to do is recall it's funny story!
There are several aspect to the course that make it so appropriate for children with dyslexia &/or dyscalculia. For example, the larger number is always represented by the physically larger object.  For example, in one story, a windshield of a car is broken. The car (4 tires) is obviously bigger than the windshield (2 windshield wipers), so the answer is 42. In another example, extra camping string is kept inside the backpack, next to the tent.  The tent (3 poles) is obviously larger than the backpack (2 straps), so the answer is 32.
There are many many consistencies across all the stories that make the answers easier to recall.  For example, all the object representations are color coded – purple objects =4 (like the purple car), all blue objects = 2 (like the blue backpack), and black objects = 8 (like the black spider).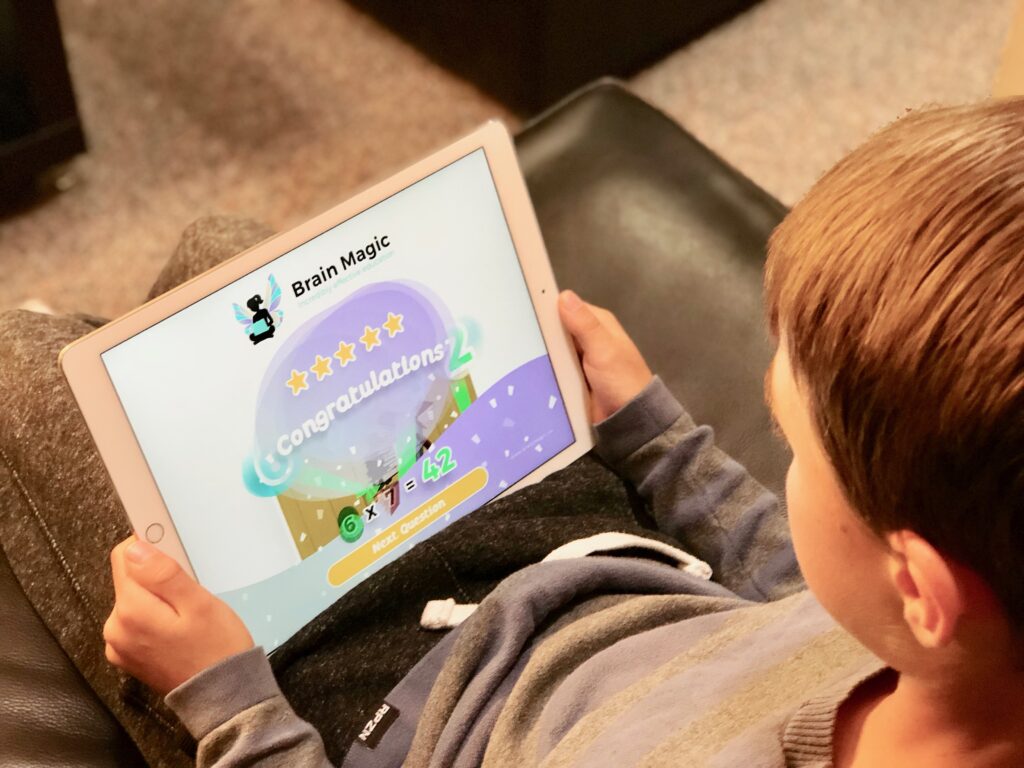 Last year, Darren thought that many more children could benefit from this story based approach, so he created a condensed course and partnered up with friend and entrepreneur Drewe MacIver to put on weekend-long Math Camps.  In the fall of 2017, in Vancouver and Toronto, Canada, over 80% of the children who attended a Math Camp learned the times table in one weekend.
Seeing it in action for the first time, Drewe was stunned, "When parents approached us with damp eyes, saying they really didn't think their child could learn the times table, and now they had, I knew we had something special."
Bran Magic's course will soon be available for others on Kickstarter, as the company is fundraising to turn Darren's math stories into an interactive digital course and testing app that children all around the world can use from their home computer, smartphone, or tablet.
Focused on making this learning approach available to children around the world, Drewe says "It's not a guarantee that we will hit our funding goal, but I really hope we do because I've seen the impact this program has on children first-hand and it's heartwarming.  The thought of doing that for thousands of children, year after year… We need as many people as possible to believe in us right now."
Please fund this project on Kickstarter:
Category: Apps/Accessories, Dyscalculia, Dyslexia, News