We Invite you to:
The "WHY CAN'T MY DAUGHTER READ?" and
"WHY CAN'T MY SON READ?"
Book Signing Event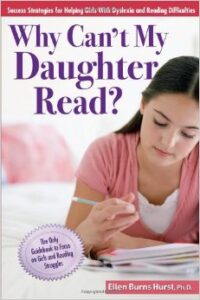 Thursday, September 18th, 2014
from 4:00pm to 6:00pm
At Chico's
1634 Cumberland Mall
Atlanta, GA 30339
770-434-6655
Chico's at Cumberland Mall, invites you to join us and meet authors Ellen Burns Hurst, PhD, Reading Specialist and Michael Richard Hurst, JD, Educational Advocate, as they present and sign their books in support of their quest to empower parents, educators and all persons who work with dyslexic children.
The event will include:
Book signing by Ellen and Michael Hurst
Books for sale
A portion of Chico's sales going to the American Dyslexia Association (ADA)
Light refreshments provided by PF Chang's
ABOUT THE AUTHORS:
Dr. Ellen Burns Hurst holds a Ph.D. in language and literacy and has spent a career focused on cutting-edge pioneer in the field of dyslexia, Dr. Hurst continues to focus on her passion of changing the reading lives of students through her position as past-president of the International Dyslexia Association of Georgia, as an adjunct professor at Georgia State University, and through frequent research presentations at national and international literacy conferences. As an experienced reading specialist in public schools, private school, and private practice, she has a theoretical and pragmatic interest in reading assessment and intervention. Her clinical training includes Orton Gillingham, Lindamood-Bell, and Wilson Language System. Her research interests include a focus on the struggling reader in global school settings, as well as the social, cultural, and cognitive aspects of learning to read in the local classroom.
Dr. Hurst is married to Michael R. Hurst, J.D., an attorney. His practice, which spans over 30years, included interaction with the school systems through his extensive involvement with the Juvenile Courts. He shares and supports his wife in her passion for advocacy work for underachieving children.
Ellen and Michael are native residents of Atlanta, Georgia and have three children. Of their two sons, the oldest holds a PhD and works as a Data Scientist in Atlanta, while their middle child graduated from West Point and currently works in the financial markets in San Francisco. Their daughter lives in Washington, D.C. and works as a staffer in the U.S. Senate.