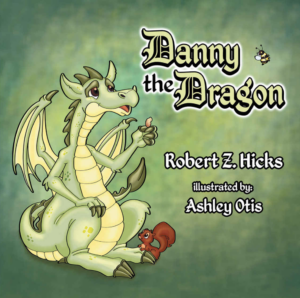 My children's rhyming story picture book, Danny the Dragon, was at the Page Design department of my publisher when I picked up the Winter Bulletin of the Society of Children's Book Writers and Illustrators. (SCBWI) An article by Dr. Theodore Cohen PhD, "Are Authors Giving Up On 20% of Their Readers?" caught my attention.
Dr. Cohen discussed things that helped children with language-based learning disabilities, especially those with dyslexia.
Some of the things that Dr. Cohen mentioned, like a font that keeps space between letters, (sans serif) spacing out lines of text, and enlarging the text, I had already implemented in my previous books. These readability elements help any child, not just those struggling to read. Prompted by his article, I informed our publisher we wanted Arial font which is sans serif, and no right justification which can create irregular spacing between words.
An email to the American Dyslexia Association asking for suggestions for making my book "dyslexic friendly," resulted in a response confirming our choice of font, and giving a suggestion to avoid "noise" behind letters, such as text over artwork. I was pleased that the American Dyslexia Association offered to look at my books.
I was delighted to receive a message from American Dyslexia Association with the information that they had "tested" my books on school children, especially one girl said "she was delighted."  In fact, the girl asked for two of the books to be read again! My books, especially Danny the Dragon, are now approved by the American Dyslexia Association.
A serendipity occurred when I went online to see what Open Dyslexic font looked like. I found an article by dyslexia expert Dr. Guinevere Eden, a professor at Georgetown University, and director of its Center for the Study of Learning. In the context of discussing the lack of research validating "dyslexic friendly" fonts, Dr. Eden stated: "The fundamental problem of dyslexia is in mapping the shapes of letters to the right sound units or phonemes."
The "right sound units or phonemes" jumped out at me, because I had already learned that rhyming helps children make the connection for phonemic awareness!  And, my books are stories in rhyme!
Another search of rhyming and dyslexia uncovered research by Usha Goswami, Professor of Cognitive Developmental Neuroscience at Cambridge. Dr. Goswami asserts: "Children who are dyslexic struggle with speech rhythm." She suggests that children can overcome dyslexia by learning nursery rhymes, dancing, and singing, because the condition is caused by lack of rhythm patterns sin the brain.
Rhyming with rhythm is what I do!
Danny the Dragon is a rhyming story picture book with a rhythmic beat!
"Danny the Dragon" is available on Barnes and Noble, and Amazon: https://www.amazon.com/Danny-Dragon-Robert-Z-Hicks/dp/1641912839
To preview Robert's books, visit his website at www.robertzhicks.com.
Robert Z. Hicks
"Mr. Bob"