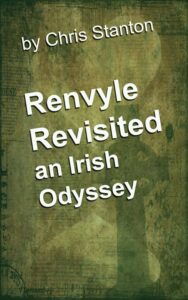 Our thanks goes out to dyslexic author Chris Stanton, who is giving out 10 FREE copies of his book "Renvyle Revisited, an Irish Odyssey" to download as an Apple Audiobook. E-Mail us at [email protected] and claim your FREE copy by February 28th, 2015!
Audiobook Description:
Your narrator for the adventure is me an American, the sort of fellow the Irish might refer to as a boyo. The times recounted are before Ireland joined the European Union, when it was the 'old sod.' If you've ever wondered what it would be like to visit relatives in Ireland, my stories will be warm and enlightening. There is something magical about visiting where, but for a generation or two, you'd be living and laughing everyday with cousins. Renvyle Revisited an Irish Odyssey is a bit of a mystery. I had told my American first cousins on my mother's Kilkenny side a story about their father and I promised to tell another about his adventure a generation earlier in Ireland with my father's Connemara side of the family. The thing of it is, I didn't know exactly what I was promising. I had not reasoned out what it meant. The payoff is that you will learn more Irish history by accident than most will learn on purpose. It took me more than nine hours and forty-five minutes of talking to get to the bottom of it or at least my version. The mystery regarded a grudge with non-family that was renewed with my visit 17 years later. How Irish is that? To make sense of the revisited story one needs to know about the Irish Civil War, and hardly anyone of Irish descent a generation or two American has a clue about it. My grandfather's generation lived The Irish War for Independence. They fought the Irish Civil War vicariously. They witnessed Èamon de Valera, titular President of Ireland, fundraising for The Independence War. Generally, Americans who knew Èamon did not hold him in high regard. Dev was judged a duplicitous fellow, accepted in the name of unity when facing greater evil, England.