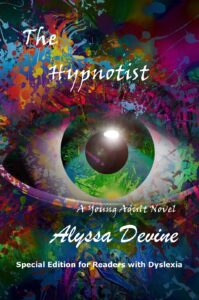 Theodore Jerome Cohen (aka 'Alyssa Devine') is giving away a FREE hardcopy of his book "The Hypnotist" in the special edition for readers with dyslexia to one lucky reader of ADA's blog.
You can find out more about the book here: Special Edition of "The Hypnotist" by Alyssa Devine Released for Readers with Dyslexia
If you want to enter the contest, please send an e-mail to:
[email protected]
The winner will be announced after Christmas. So hurry to send us an e-mail!
Happy Holidays from Dr. Ted Cohen and the American Dyslexia Association!
UPDATE: Congratulations to the winner! Alex K. from California.