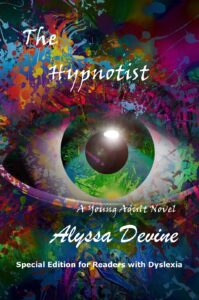 When Tom Lassiter hypnotized his friend Amanda Wilcox, the last thing he thought she would reveal were an abduction and murder that took place 25 years earlier. But who were the murderers, and why did Amanda and Tom have them to fear now?
"A great story . . . entertaining, fresh, and crisp, even fascinating at times."
Lee Ashford for Readers' Favorite
Theodore Jerome Cohen (aka 'Alyssa Devine') is pleased to announce the availability of a special edition of The Hypnotist for readers with dyslexia. This version of the Young Adult (YA) novel, printed using the OpenDyslexicAlta font*, is intended to make this mystery/thriller with paranormal and magical realism overtones available to the 20% of the population that suffers from one of the more common language-based learning disabilities.
"I never realized the problems facing people with dyslexia until I read a recent article on the CNN Website describing the work of British designer Daniel Britton. Britton, who had never finished reading a book until he was a 22-year-old university student, has dyslexia, a disability that affects one in five students."
"What Britton did," said Cohen, "is create a typeface intended to show the barriers dyslexic students face when they attempt to read. After going to his Website and trying to read material published in that typeface,** I was startled by how difficult it must be to live with this disability." (Britton subsequently started a Crowdfunder campaign to create educational packs of his work as a way of educating the general public about dyslexia.) "It then dawned on me that one thing I might do to address the problem is release a special edition of The Hypnotist, the novel I wrote under the pen name 'Alyssa Devine', using a font specifically designed for dyslexic readers. Frankly, once I had the font installed on my computer, it took only a few hours to create a pdf file for uploading to Amazon's CreateSpace publishing house. I decided to create a new cover as well, just to make sure there was no confusion between the two editions. But within a few days, I had the proof, and once that was reviewed and approved, the book went up for sale."
When asked about a Kindle version, Cohen noted those e-readers, out-of-the-box, are not configured to display the unique font he was using. "It's possible to modify Kindle readers without hacking them to read books such as the special dyslexic edition of The Hypnotist," he said, "but it's not something most people would do. So, until there's an easy 'fix' that would enable Kindle readers to display fonts such as OpenDyslexicAlta, or even Comic Sans, another font readers with dyslexia prefer, the creation of a special Kindle edition is 'on hold'."
The Hypnotist is the debut novel of Alyssa Devine and the first offering of the Wood Bridge Division of Cohen's imprint, TJC Press. True to the Division's credo—"Bridging Generations with the Printed Word"—the novel, while written for young adults between the ages of 13 and 17 years, inclusive, also will appeal to adults of all ages. "Make no mistake," said Cohen, "this is a murder mystery/thriller through and through, and it should keep you on the end of your seat right up to the last page."
When asked about the characters, Cohen was quick to note that Amanda and Tom are not your typical 17-year-olds. "They're both 'transplants' to Lafayette's Langford Creek High School," he said, "Amanda from New York City following the ugly divorce of her parents and the return of her mother to her family in Lafayette, and Tom from overseas following his father's assignment to manage his company's oil and gas operations in the Gulf of Mexico. In short, the teenagers are 'outsiders' and so, it's only natural they should gravitate toward one another. The problems start, of course, when Tom wants to hypnotize Amanda and experiment with the concept of reincarnation . . . the idea that people have led previous lives."
The special edition of The Hypnotist for readers with dyslexia is available in the paperback format on Amazon:
http://www.amazon.com/dp/1514789337
Contact us at: www.alyssadevinenovels.com
* This special edition of The Hypnotist uses the OpenDyslexicAlta (open-dyslexic-alta) font by Abelardo Gonzalez. The font is used under a Creative Commons Attribution 3.0 Unported License.