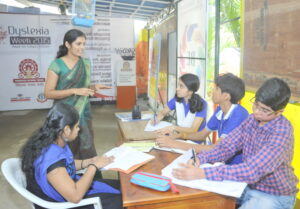 This is the account of a lonely and tiring journey that I set myself on some years ago for my son Tejas, and for other similar children and their hapless mothers. Tejas was diagnosed as dyslexic some years ago. Even before that shocking diagnosis came and shattered our lives; his every day in school was a terrifying experience for him and us.
A restive kid by nature, Tejas could not cope with the grinding routine of regular school. He was speedily pronounced a troublemaker, lazy and prone to throwing frequent tantrums, maligning the decorum and discipline of the classroom. The teachers could not comprehend his behaviour, since no one save me knew of his malady that he was the victim of a medical disorder.
As regular schooling became nearly impossible for my son, I began searching for a different educational environment, one that would not castigate him for his disorder, but would reassure him of his abilities and instill confidence in him. To my dismay, I discovered that there was no such institution in Kerala, that could satisfy the mother in me, and maybe even provide a measure of comfort.
By this point, I had come to realize that there were hundreds of hapless Tejases and silently grieving mothers like me in my neighbourhood and across the state. I made a resolve to get my son quality education that would not nip away at his talents, but which would nourish his potentials and emotionally support his evolvement into a valued citizen of this society, The efforts I took in this direction bore fruit with the founding of Travancore National School, in Thiruvananthapuram, Kerala, offering specialized education tailor-made for children with learning disabilities such as dyslexia, dyscalculia, dysgraphia, attention deficit hyperactivity disorder (ADHD) and autism.
A lonely journey
Yes, it was a lonely journey all the way, that too through unfamiliar, uncharted terrain. Now, when the calendar has completed one full cycle, our school, which began with six kids on July 25, 2014, has grown to accommodate 44 students. Within an year of its opening, we could begin classes from kindergarten to class 12. Four of our dyslexia-challenged students passed their class 10 examinations through the National Institute of Open Schooling (NIOS).
Tejas, my son, Young Ambassador for dyslexia
During the initial period of the school's functioning; we had another eye-opening experience that pointed toward the need for social education and raising awareness about learning disabilities. Some of our students' parents approached us with a seemingly strange request –they asked if it was permissible to send their children to our school robed in other schools' uniforms. When asked why, the answer was invariably that they wished to avoid the social stigma associated with having their children attend a 'special school'. Dismayed as we were, we managed to convince them otherwise, but the writing was on the wall – measures needed to be adopted to ensure these children would not be socially outcast. Needless to say, what was required was not a small-term solution, but social education to weed out deeply rooted roots of the stigma. As a first step, I volunteered to project Tejas as the brand ambassador for dyslexia. Of course, much more needed to be done, on a much larger scale. We would get to it later.
'Our teachers, their mothers'
We at Travancore National School dono't refer to our faculty members as 'teachers', but as 'mothers' who take care of all the needs of their beloved children. Rather than syllabus and examinations, it is the overall growth and education of the children that are the focus of our educational programme. Our 'teachers–mothers', are ably assisted by child psychologists and counsellors, who also extends their services to the children's families in order to help them understand the unique qualities of their children.
We have also set up a well stocked library, a computer lab, a visual learning studio and special training apparatuses for our variously challenged children.
Live the colourful life
The co-curricular activities offered to our students include training in martial arts such as karate, musical classes including keyboard, computer education, vocational training, yoga classes and sports, designed to help bring out the best in each individual
We acknowledge the importance of students being equipped to thrive in the world outside their classrooms. To this end, we encourage our wards to take part in social activities such as harvest festivals and the planting of saplings, inspire them to grow up to be responsible citizens, and train them to mingle seamlessly with mainstream students through social interactions.
The summer camp held in May 2015 exposed the children to training in social and artistic skills. They tried their hands at cookery and painting and also learned the basics of self-defence. They listened to dieticians speak about the importance of healthy diet, and doctors demonstrated to them the basics of first aid techniques. They were also introduced to performing art forms such as Kathakali, folk dance, etc.,in the camp
Take society with us
Recognising the significance of social participation and inclusion, we also embarked on a mission to create awareness about dyslexia. Leading playback singer G. Venugopal joined the campaign by agreeing to be Travancore National School's goodwill ambassador. This ensured that we got some attention in the press and on social media, which we were able to leverage to our advantage by focusing media coverage on our cause, all of which went a long way in promoting awareness about dyslexia.
The research cell of the Thiruvananthapuram branch of the Indian Medical Association's (IMA) has joined hands with our school for a unique threefold awareness campaign.
Together, we are attempting to raise awareness about learning disabilities among parents, relatives, and teachers and medical professionals. We are also lobbying with the government to train teachers to identify and help children with dyslexia, and to set up affordable facilities in government schools to help the indigent children and their parents. Furthermore, we are working to develop a network of such institutions and to train professionals who can help the needy children from low-income families.
Tejas's journey forward, our vision
Tejas is a happy child these days, and he enjoys every moment in school. Happy too are dozens of other Tejases, who shine like the lamps lit from the source, the Travancore National School. However, this is not the end of my journey.
Indeed, I am at the beginning of this journey and am now at a turning point in my life, as are several others around me. I realise clearly that I need to persist; I have a responsibility to make more Tejases smile, and I need to put my head down and plough on until the path on which I have set out is a smooth one on which hundreds of challenged children can hope to begin their life journeys smoothly. I need to strive hard, to ensure that those children's smiles reflect on the faces of their parents.
I hope to transform Travancore National School into a nodal centre for children with learning difficulties, and to raise it as a training centre for teachers who specialise in learning difficulties. I realise that the successful first year is only the first mile on this challenging road, and that I have many, many more miles to go before I sleep…
TRAVANCORE NATIONAL SCHOOL
www.travancorenationalschool.com
TRAVANCORE NATIONAL SCHOOL / FB
https://www.facebook.com/Travancore-National-School-1413481035600359/
TRAVANCORE DYSLEXIA ASSOCIATION / FB
https://www.facebook.com/Travancore-Dyslexia-Association-1452503165029522/