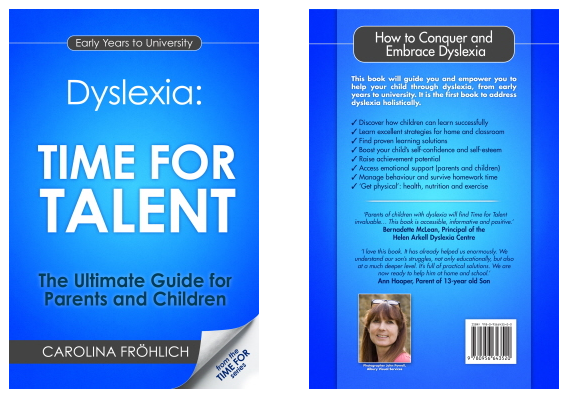 An inspirational book about empowering children and adults to deal with dyslexia has been hailed with numerous accolades since its launch earlier this year – and it's now been awarded an Honourable Mention in the Readers' Favourite International Book Awards 2014. Dyslexia: Time For Talent (The Ultimate Guide for Parents and Children) received glowing reviews and excellent endorsements from education and publishing experts when it was released, and has now cemented its status as one of the premier books on youth dyslexia currently on the market with the highly coveted award.
Debut author Carolina Fröhlich, who wrote the book after many years working as an educational consultant, is thrilled her helpful and moving guide has been received so well by readers and critics alike. After suffering from dyslexia herself throughout her life, Fröhlich has dedicated much of her career to helping parents and children deal with the difficult 'condition', and is now reaping the rewards of her commitment.
Fröhlich says, "I'm over the moon to have received an Honourable Mention at the Reader's Favourite Book Awards – hearing that critics and readers have been moved and affected by my book is the biggest prize of all. The book was originally intended to empower children and parents suffering as a result of dyslexia in the family, and to hear that it's now winning awards after the fantastic reviews it initially received is wonderful."
She adds, "My own experiences with dyslexia moved me to write the book, and it's a real thrill to hear that my work in the field is being recognized by experts as well as by those who are confronting the challenging 'condition' head-on."
The book set itself immediately apart from the crowd by helping readers to emphasize the talent of a child, rather than focusing on any shortcomings or perceived failures that occur as a result of their dyslexia. Rather than viewing dyslexia as something which needs to be cured, Dyslexia: Time For Talent encourages everyone to see it as a different way of learning. The book promotes positive attitudes in children, parents and teachers, and is equal parts informative and encouraging in the fight to overcome the challenges that having dyslexia presents for millions across the world.
The book also goes above and beyond the level set by many similar books, by emphasizing that dyslexia doesn't stop at pre-school or infant level. With advice on how to handle the condition in later years, even stretching as far as career advice and learning to drive, the book has been rightly hailed as one of the most comprehensive and essential books on the condition.
For more information about Carolina Fröhlich and to buy her celebrated dyslexia book, visit http://www.carolinafrohlich.co.uk or the book's Amazon listing.