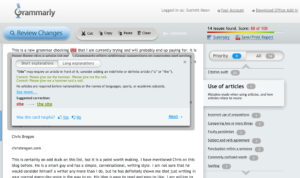 How many emails did you send today? What about Facebook updates or tweets?
Online communication is more important than ever. According to research by the email management company AWeber, over 90 percent of teens today prefer to communicate via email, text, and Facebook. Texting and social networking are increasingly our primary modes of talking to each other; in fact, a 2012 study found that 40 percent of Americans would rather text than call, while 30 percent prefer to connect with friends online instead of face-to-face.
Unfortunately, typical spelling and grammar checker tools aren't available to you where you write most—online. Here are 5 tips for helping people with dyslexia to write better on the Web.
1) Create a short proofreading checklist for yourself. What kinds of errors do you most want to find and fix? Typically, people struggle with a few areas of grammar and spelling more than others. Maybe homonyms (they're/their/there) trip you up, or maybe you have trouble remembering when to use a comma. Understanding your strengths and weaknesses as a writer is the first step to improving your prose.
2) Look for one kind of error at a time. Trying to fix everything all at once is a great way…to make yourself feel overwhelmed and frustrated. Instead of proofreading for all errors at once, break the task down into more manageable chunks. Start with end punctuation first (periods, exclamation points, and question marks), then move on to other punctuation (commas, semicolons, apostrophes, etc.), and finally tackle spelling. Pay closest attention to the problem areas you identified in step one.
3) Read aloud (or use text-to-speech to read aloud) to locate misspelled or missing words. Reading your emails or tweets out loud may make you feel a little sill, but according to the Writing Center at UNC-Chapel Hill, it's one of the best ways to catch errors that you might otherwise miss. "Most people have far more experience listening to and speaking English than they do reading and editing it on the printed page. When you read your draft out loud or listen to someone else read it, your brain gets the information in a new way, and you may notice things that you didn't see before." If you'd rather have someone else read your text, there are a number of free text-to-speech programs available such as Natural Reader.
4) Step away and look again later. After you've proofread a piece of writing, take a break, step away, and then come back to it with fresh eyes. The longer the work, the more time you should take between passes. Shorter pieces of writing, such as tweets or status updates, may only require a coffee break, but important emails, blog posts, and other documents may need to rest overnight.
5) Use online grammar checking tools. American Wordspeller is a phonetic dictionary that allows users to look up words based on how they sound, not how they're spelled. Another great tool is Grammarly Lite, a free browser extension for Chrome, Firefox 4+ and Safari browsers that alerts you to potential grammar mistakes before you post or hit "send." It also catches contextual spelling errors (typing "horse" when you meant "house," for example) and has a built-in thesaurus for those times when the right word eludes you.
Without non-verbal cues like tone of voice or facial expressions, text-based communications rely entirely on the quality of your writing. Put your best text forward!
Blog Post provided by Grammarly.com
Grammarly improves communication among the world's 2+ billion native and non-native English writers. Our flagship product, the Grammarly® Editor, corrects contextual spelling mistakes, checks for more than 250 common grammar errors, enhances vocabulary usage, and provides citation suggestions. More than 4 million registered users worldwide trust Grammarly's products, which are also licensed by more than 350 leading universities and corporations. Grammarly is a privately-held company with offices in San Francisco and Kiev.
Category: Apps/Accessories, Dyslexia, Freebies, News