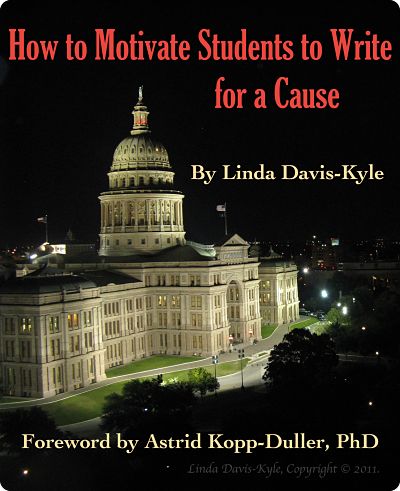 How to Motivate Students to Write for a Cause: Getting Nondyslexic & Dyslexic Teens to Write about Health & More
Loving to write as she does and knowing that helping students polish their writing skills boosts their confidence, Davis-Kyle, author of the Kindle book, How to Motivate Students to Write for a Cause: Getting Nondyslexic & Dyslexic Students to Write about Health & More, is dedicated to instructing beginning writers of all ages. Her 2015 Kindle book, The Busy English Teacher's Fun Activities & Exercises for Pre-Teens: Nutrition Tips & More, blends an abundance of writing practices with physical exercises and brings them to teachers' fingertips to select the activities that work best for their pre-teens.
This 2016 Kindle book, How to Motivate Students to Write for a Cause, honored with a Foreword by the eminent Astrid Kopp-Duller, PhD, creator of the Attention Function Symptom [AFS] system, is more than a gold mine of writing prompts for teens to save time for teachers. It shares topics that can help teens focus on healthy futures. The book also urges teens to research the topics of the day, interrogate the evidence presented in various media, then think, analyze data, and write to share their own thought-provoking solutions with the world.
With guidance from caring teachers, teens can build their reading and listening abilities and polish the writing and speaking talents. To remove all doubt that teens can write, if they embrace writing, Davis-Kyle highlights currently successful nondyslexic teen writers from Canada, Scotland, and the United States. She also reminds teens of outstanding dyslexic writers such as Agatha Christie, F. Scott Fitzgerald, Octavia Estelle Butler, and Daniel Eckstein of yesteryear, and Sherrilyn Kenyon, of today, all of whom also began their writing careers early in life. Thus, the teens are championed to step over, navigate around, or bulldoze through any obstacles that intrude, if they truly want to write. With a plan, a caring coach, and practice, they, too, can make their writing dreams come true.
This unique book takes a passionate stand to help prevent the bullying that dyslexic students sometimes face. Davis-Kyle introduces programmer Victor Widell's resourceful innovation that helps nondyslexic teens see—for a moment—what many dyslexics must endure every moment as they try to read. Some nondyslexics boast that they have no problem reading Widell's depiction. So be it for some. Nevertheless, Davis-Kyle gently reminds those who can read with such ease to be grateful for their good fortune. With the guidance of thoughtful instructors, dyslexic teens can and do often write with great success. With How to Motivate Students to Write for a Cause, it is hoped that they will find topics to pursue and will write with great vigor to share ideas from their often unique and profound perspective to help our society today.
Linda Davis-Kyle has been published in more than a dozen countries on five continents in magazines such as World Travel Magazine in Australia and Healthy Options in New Zealand, and professional journals such as Modern Drama in Canada and Studies in English Literature in Japan. Nothing brings her greater joy than to help others who also are beset with an insatiable desire to write just as she is. Many in our society today seem to be lost in a vast wasteland that limits thinking and clouds understanding. Reading widely, interrogating the evidence, analyzing fully, and drawing worthwhile conclusions can clarify a great deal; and sharing their ideas with the world can benefit not only the writers themselves and but also their readers. Go for it!