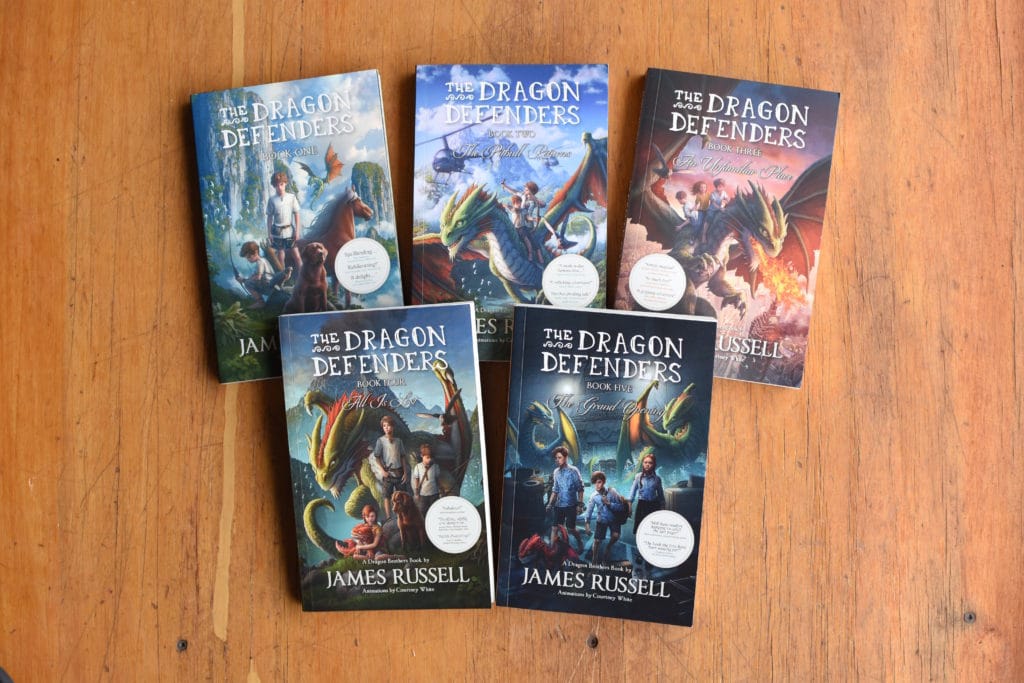 The Dragon Defenders series of five middle grade novels underwent its worldwide
release on Amazon in February this year with an overhaul of its text to make it
dyslexic-friendly.
In New Zealand, where author James Russell resides, The Dragon Defenders series
are something of a phenomenon, outselling many of the major children's book
franchises.
Over 50,000 copies have been sold in a country where just 5000 books constitutes a
best-seller.
The books are unique in that they include digital content by way of the use of an app.
Readers download the free app AR Reads (AR stands for 'augmented reality') from
the App Store or Google Play onto any device. In each of the Dragon Defenders
novels, there are four or five pages where readers can use the app – marked with a
symbol of a tablet or a phone on the bottom. Readers point their device at that page,
and the digital content is unlocked. It may be that a code is cracked before the
reader's eyes, or a video plays a message from the bad guy. It can be a 2D or 3D
animation, a news story or a simple audio file where the user overhears a telephone
conversation.

"No one had seen anything like it before," says Russell. "It was intended as a bit of
fun, but then something amazing happened. I started to receive a huge amount of
emails from parents saying it was incredibly effective with their reluctant readers;
the augmented reality was drawing them through the book."
Many of those emails came from parents whose children were dyslexic, and they
were overjoyed to see their children voluntarily reading for pleasure.
"I knew nothing about dyslexia," says Russell. "Then, our son was diagnosed, and
suddenly a whole world was revealed. A chance meeting with a dyslexia advocate in
a library in Christchurch resulted in me learning what sorts of fonts, spacing, kerning
and justification made reading more accessible for dyslexic children and adults. My
first thought was: why isn't this universal, used everywhere, widely known? It's the
very definition of a no-brainer."
Russell sought advice from specialists and made the changes to his Dragon
Defenders series, so that when they were released onto the global platform
Amazon, they were immediately accessible to those readers.
They're also available on Kindle, and Russell was delighted to find that the app
works just as well on e-reader screens.
See more at
https://www.youtube.com/watch?v=lh9zWzt9pMY
He also set about narrating and recording the first two books of the series as
audiobooks, which are now available on all audiobook retail platforms.
To find out more visit https://dragonbrothersbooks.com/pages/augmented-reality
The books are available on amazon.com The first book in the series is at
https://www.amazon.com/gp/product/B08QMLJLQM