"As a dyslexic, the typeface used in the special paperback edition of this book [OpenDyslexicAlta] assisted me with the tracking issues I have and made this a much more positive reading experience. The Hypnotist is a 'must read,' dyslexic or not." Ervin Carpenter, Executive Director of WILDD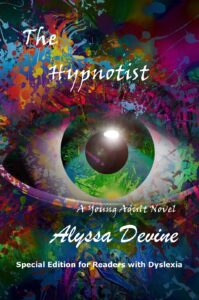 When Tom Lassiter hypnotized his friend Amanda Wilcox, the last thing he thought she would reveal was an abduction and murder that took place 25 years earlier. But who were the murderers, and why did Amanda and Tom have them to fear now?
"A great story from a new author . . . entertaining and fresh, even fascinating at times." Lee Ashford for Readers' Favorite
When, on an afternoon outing in Bayou Vermillion, Lafayette, LA, Amada Wilcox has her fortune read by Madam Zu-Zu, she and her friend, Tom Lassiter, never thought it would lead to her having a nightmare in which she dreamed she was being choked to death. Under hypnosis, Amanda reveals to Tom that she once was a woman named Kyla Decker, who disappeared 25 years earlier after being stopped by a policeman while driving home early one morning after partying with her girlfriends. An Internet search reveals the name of another woman, Cindi Lathrop, who disappeared some years after Decker under similar circumstances. As Amanda's and Tom's relationship blossoms, the teenagers uncover evidence linking a former Lafayette, LA, policemen and a funeral home employee to the abductions, men who they suspect murdered the two women. But then, in what appears to be a real-life enactment of what the fortune teller told Amanda, Amanda and Tom find their lives threatened by one of the two men they think was responsible for the murders committed 25 years earlier. Can the teenagers survive, knowing the last of the five tarot cards read to Amanda by Madam Zu-Zu was Death? The only way to learn the answer to that question is to read The Hypnotist.
Available in Kindle and two paperback editions (Georgia and OpenDyslexicAlta fonts).