If the goal is to develop lifelong readers, students need time in class to practice—and learn to enjoy—reading.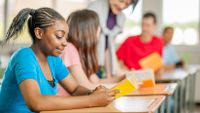 By Sarah Gonser  February 26, 2021
When Marilyn Pryle, a teacher in Clarks Summit, Pennsylvania, began scheduling silent reading time for her ninth- and 10th-grade students during the first 10 minutes of each class, it became "one of the most profound and rewarding shifts in classroom teaching I have made in my career," she writes for MiddleWeb.
Now, instead of skimming entire books at the last minute, Pryle's students "read, and can't stop reading," she writes. "They often finish their books in two weeks, or less. They want to know what will happen, so they read during study hall, at home, and during our classes."
It's a shift that Pryle, who is an author and last year's Pennsylvania Teacher of the Year, believes reinforces what many educators already know: if we want students to read—perhaps even grow to love reading—time for in-class reading needs to be prioritized in the school day. Far from being a waste of time, and in spite of intense pressures on teachers to meet academic requirements, when schools make the shift to incorporate in-class reading time, it can have a powerful, long-term impact on students' reading and writing skills.
Literacy experts like Kelly Gallagher, author of Readicide: How Schools Are Killing Reading and What You Can Do About It, have been hammering away at this issue for some time. "There are not enough books in schools," says Gallagher, sounding a familiar refrain. "There's not enough choice of books in schools. And there's not enough time for kids to read in school. Those factors have to change."
To nurture a love of reading, students also need guidance learning how to find a wide variety of books they might like; exercises that teach them how to engage and think deeply about what they're reading, at least sometimes; and plenty of low-stakes opportunities for reflection that reduce the pressure students feel around reading, removing it from the stressful realm of more homework and grading.
Daily class time: In high school English teacher Chris D'Ippolito's classroom, students read between 10 and 15 minutes at the beginning of class—and a few times a month, even longer blocks of time—a routine he says is critical for setting kids up as lifelong readers. "Giving students both choice and regular practice creates a classroom culture in which books are valued," writes D'Ippolito. "Daily practice then becomes routine—even if students aren't reading at home, they're still getting the practice needed to develop a lifelong independent reading habit."
Try Book Clubs: Alongside her regular curriculum, Pryle organizes book clubs for her high school students, providing them with the opportunity to choose their own groups and the books they'll read. She has a few simple rules: "The books must be a minimum of 150 pages, and each book must be one that's new to everyone in the group," writes Pryle, noting that, if necessary, teachers can evaluate students' choices to ensure the books are appropriate.
If a student struggles to find a group to join, Pryle steps in to help, asking the student about friends or acquaintances in the class. "Then I delicately talk to someone in that group, usually seeking out the person who seems the most mature and kind. So far, it has worked out."
Continue reading:
https://www.edutopia.org/article/even-older-kids-should-have-time-read-class
Category: Dyslexia, Food for Thought