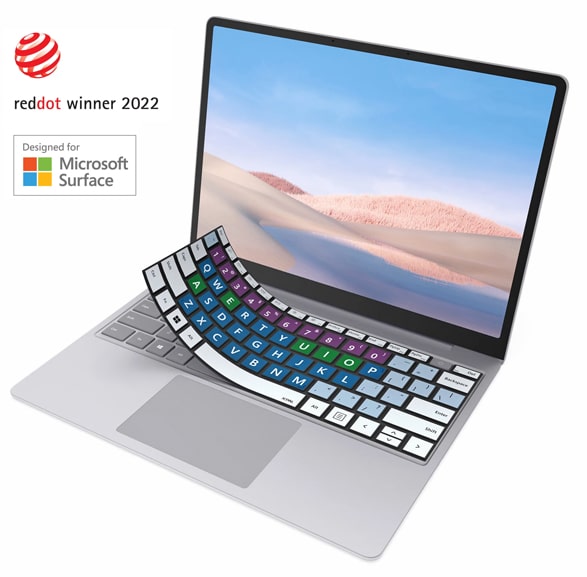 JCPal, a Canadian technology accessories company, has introduced a new keyboard protector for dyslexic students. Designed in collaboration with the Microsoft Devices Accessibility Team initially for the Surface Laptop Go and Surface Laptop SE devices, the VerSkin Inclusive Keyboard Protector is intended to make it easier for dyslexic students to navigate and familiarize themselves with the keyboard on their device.
The VerSkin is made with a black silicone material that sits snugly over the keyboard, protecting the device from dust and spills while adding a visual and tactile guide to the keys, making them easier to navigate.
Key features include:
Color-coded key zones differentiating consonant, vowel, number, symbol, and function key types
Large, bold, and high contrast key markings
Tactile L-shaped bumps marking the corners of the letter key area
Tactile dot bumps identifying Windows and Accessibility keys
The goal is to make the consonants and vowels easier to differentiate by using two cooler colors (blue, green) and marking the number keys in a warmer hue (purple). This vivid, high-contrast area is differentiated from the function and symbol keys which have light backgrounds and dark key markings. The colors on the protector have been chosen to be both easily identifiable (and color-blindness friendly) but also muted enough that they'll be comfortable to use in a classroom environment where many students prefer to blend in with their peers.
Touch typing can be an essential and empowering skill for dyslexic students and the VerSkin features tactile bumps on the corners of the letter key area to help promote a consistent resting hand position and encourage the development of touch typing abilities.
The VerSkin recently won a coveted Red Dot award for its innovative design and thanks to its low cost and simple but effective approach it's the type of product we'd like to see more of to support dyslexic students.
You can read more about this product here:
https://jcpal.com/products/verskin-inclusive-keyboard-protector-for-surface-laptop-go
Category: Apps/Accessories, Dyslexia, News