Among the resources that help people with dyslexia, scanning pens can be of great help. These devices can turn scanned text into audio, making printed texts available to those with reading difficulties. One of the latest models of this assistive technology was released by Smart Youdao. Their Youdao Dictionary Pen 3 is a lightweight reading pen that reads texts aloud upon scanning. The device is portable and can be used offline, and the pen can scan multiple lines of text at once and offer a customizable reading experience.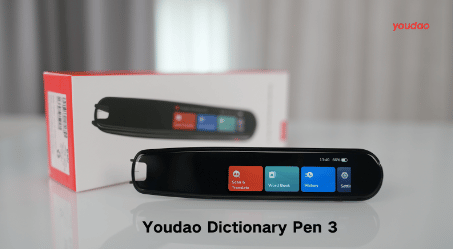 How does it work?
Just grab the pen and gently press it against the surface and start scanning at a steady speed. The pen will immediately start recognizing the text and once the pen's tip is lifted from the surface the pen will automatically read the text aloud.
The pen can read more than books.
The pen's scanner has an accuracy of up to 99.6% and can recognize different types of fonts, font colors, numbers, mathematical symbols and can be used to scan texts not only in books, but also on labels, packaging, screens, etc. The offline mode along with the scanner, helps people with literacy difficulties to overcome the challenges in school or the office, and also in daily-life situations.
After scanning, the pen's screen will also display the original text as well as show a button for the audio; users can press this button to repeat the audio. The user can also tap on the words that appear on the screen to listen to its individual pronunciation and to look at the definition of the word. The pen includes several dictionaries including Merriam-Webster's and can support the English, Spanish and Chinese languages.
Customizable reading experience.
Youdao Dictionary Pen 3 allows the user to adjust the volume and speed of the audio, choose between UK and British accents, and change the handedness, so both right and left-handed people can use the pen without a problem.
The audio has human-like pronunciation and can also be used with earphones; these can either be plugged into the pen or can be paired via bluetooth.
Additional features.
The pen also includes features for vocabulary building, pronunciation scoring, phonics teaching and language learning.
Pronunciation scoring: users can improve their pronunciation by just tapping on the microphone icon after scanning a word or sentence and saying it aloud; the pen will use Artificial Intelligence to score the pronunciation.
Phonics teaching: this feature appears after scanning or looking up a word, and teaches users how to pronounce the word letter by letter, showing the relationship between each letter and its sound in spoken language.
Language learning: these features are focused for the Spanish and Mandarin languages. The pen for these languages can translate, show definitions, pronunciation, bilingual example sentences, stroke order display for Chinese characters and Spanish verb conjugation for Spanish language. It will soon also support Korean and Japanese; these will be available through a free software update.
Vocabulary building: users can mark new words or sentences for further review.
Tech Specs
Youdao Dictionary Pen 3 has a sturdy and durable design, the pen has a metal shell and an ergonomic design that makes it comfortable to hold. It comes with a large speaker and a 2.97 inch high definition touch screen. It weighs only 72 grams and it's only 14.7 cm long; smaller than a phone.
It comes with multiple dictionaries embedded summing up to over 4 million entries, has a rechargeable battery that lasts up to 8 hours of continuous use and can be used offline.
Where to buy it?
The model Youdao Dictionary Pen 3 is available at their official website or Amazon store. It has 25% discount at their official website with the promotion code SMARTYOUDAO25
Official website: https://smartyoudao.com
Amazon Store: https://www.amazon.com/youdao
Look at the video below or visit their website for further information:
https://www.youtube.com/watch?v=c-_sxfch8Zo&t=26s
Category: Apps/Accessories, Dyslexia