Abeye, a French healthtech startup has developed Lexilens, a revolutionary reading aid for dyslexics.
This new product is based on science and provides instantaneous effect to dyslexic readers. It was awarded several prizes among which the CES innovation award at Las Vegas in 2020 and Silmo Gold award (health & vision category). It will be launched in France soon after this summer and in Europe afterwards.
Dyslexia is a reading disorder affecting 8 to 10% of population
Dyslexia makes reading very difficult and is declared as a handicap by the World Health Organization. Children suffer the most from it as they must read a lot at school while they have not yet learned how to cope with this disorder by setting up alternative strategies to read.
Dyslexia makes reading difficult and can lead to school failure, loss of self-confidence & potentially social isolation. It is a daily pain for the children and their family.
Abeye develops smart eyewear for health and wellness
Launched in 2018, the startup Abeye (abeye.tech) creates smart eyewear, eg standard looking eyewear that embeds electronics to provide health related services to the user. Abeye just released earlier this year a product called Spectalert which is a fall detection eyewear for seniors. Lexilens is their second product, developed with the same rules : simple, useful, elegant and affordable.
Abeye is incubated by "Atol les opticiens", a French optician retail network (800 shops in France). Abeye can therefore rely on Atol expertise to design eyewear that looks like….eyewear and that people will actually want to wear
Lexilens is a revolutionary reading aid for dyslexics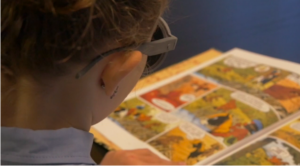 Lexilens is the result of a 2 year R&D effort done by Abeye in collaboration with the scientific academic laboratory who discovered in 2017 a potential cause of dyslexia.
These French scientists showed a link between the eyes, the brain and dyslexia: In the image processing center of the brain, every single human at some point creates a mirror image of what they are seeing. Think of looking in the mirror when letters seem backward. In a person with dyslexia, the incomplete decoding in the brain of the mirror image can result in overlays or omissions. For non-dyslexics two eyes are asymmetric which means not exactly alike. And this asymmetry gives clues to the brain in selecting which image to pick.For dyslexic people, they have two eyes that are too perfect. So the brain cannot tell the difference and can mix the two mirror images.
Lexilens can filter mirror images with its electronic lenses and reading is easier for the dyslexic wearer.
After several versions, a real life test was conducted with several testers. The results are unprecedented. The children's parents testimony are extremely promising as some children can read up to twice as fast with Lexilens. For many testers, reading is faster and easier, memorization is increased and academic results improved, increasing social confidence.
Lexilens effect is instantaneous (no training required), universal (does not depend on the age, gender or native language). The spectacular effects of Lexilens have been since confirmed for adults and children from a broad range of countries. A formal clinical trial is under way to generate scientific data to measure the improvement rate.
A non stigmatizing device
Abeye has been working on improving the design of Lexilens so it can be worn at school without stigmatization. Lexilens will be available in two sizes : children & adults. Lexilens is compatible with all prescription lenses for an increased reading comfort.
Lexilens will be available for preorder in the coming months (in Atol shops in France and online (abeye.tech) for the rest of Europe). Abeye is currently in discussion with distribution partners to support its global expansion.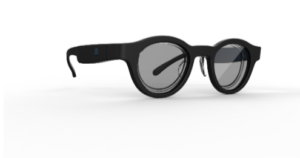 Category: Apps/Accessories, Dyslexia