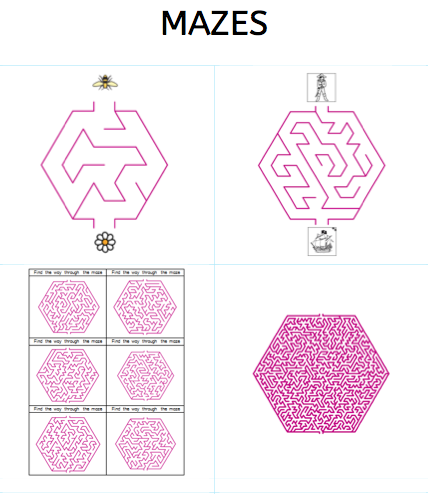 Mazes have always fascinated humanity. Think about the Cretan Labyrinth from Greek mythology. But even today mazes are very popular. In "The Goblet of Fire" Harry Potter has to go through a maze in order to win the Triwizard Tournament. Once Harry finds the way through the maze things turn out completey different than was to be expected. But that is another story which you better read yourself.
Children are also fascinated by mazes. Therefore, mazes are perfect to train attention and perception. Here is a good way to do mazes with your children:
Give your children a maze.
First, the children should try to find the way ONLY using their eyes.
If that is too difficult, or if they found the way with their eyes, they should trace the way with their fingers.
If that works well, they should trace the way with a pen. They shouldn't touch the walls of the maze.
Important: Take care that the mazes are not too difficult, but also not too easy.
We created some worksheets with mazes in varying levels of difficulty.
Category: Freebies