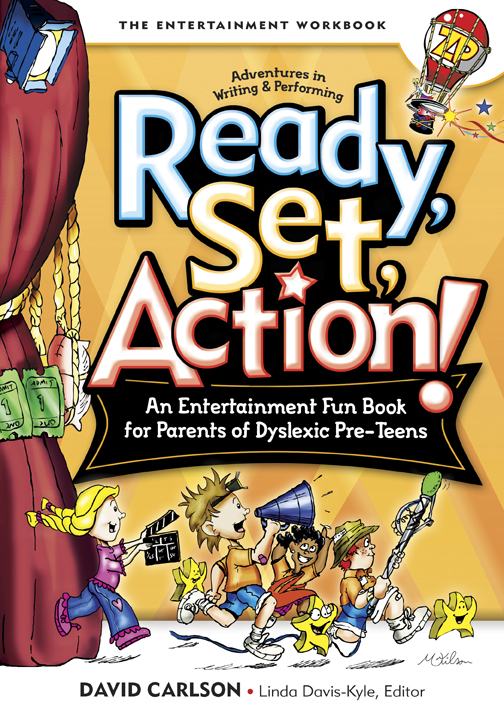 An Entertainment Fun Book for Parents of Dyslexic Pre-teens
David Carlson
Linda Davis-Kyle, Editor
Foreword by Dr. Astrid Kopp-Duller, President of the Austrian Dyslexia Association
"Ready, Set, Action! is destined to become not only a loyal friend to the parents of preteens
challenged with dyslexia, but also it is hoped that it will be a boon to their
young learners. This fun book is brimming with an abundance of writing and
performing exercises that reveal the world as an exciting learning laboratory. It
supplies an index to boost its usefulness as an efficient teaching tool and popular
instructional guide for parents and teachers of dyslexic 'tweens. At its heart, it reviews
basic grammar with relevant and positive examples and incremental building blocks
to foster do-it-yourself confidence to enhance self-esteem in students, who, too often,
are misunderstood and forgotten."
Linda Davis-Kyle, MA, Editor, Ready, Set, Action!
About David Carlson:
David Carlson knows all too well the struggles and trials of dyslexic students. As a youth he
embraced not only American Sign Language (ASL) but also creative listening to cope with the
challenges of dyslexia. To help build his self-esteem and confidence, his parents, Dan and Carla
Carlson, encouraged him to learn to play guitar and to act. His uncle, Mark Yeager, introduced him
to the exciting world of magic. Subsequently, Carlson became a magician. Now, each week, he
performs magic tricks for the children in the Adolescents' Unit at the Austin state Hospital (ASH). It
probably was his late grandfather, George Yeager, an art dealer based in Chicago, Illinois, USA, who
inspired him most with the life-changing words, "You are the architect of your own life" and taught
him never to give up on his dreams. Instead, his grandfather taught Carlson to see his challenge as a
beautiful gift that drives him to make his dreams come true. With the book Ready, Set, Action! An
Entertainment Fun Book for Parents of Dyslexic Pre-teens: Adventures in Writing & Performing,
Carlson's heartfelt goal is to help dyslexics around the world to make their dreams come true, too.
About Linda Davis-Kyle:
Linda Davis-Kyle, MA in English, ACCET certified to instruct English as a Foreign Language, and
writer, whose general interest and educational articles have been published in a dozen countries on
five continents, is the primary author of The Writer's Friend, Fun Foods for Kids & Grownups,
Change Your Life with Martial Arts, and the e-book, Writing Tips Galore. Davis-Kyle also edits
professionally, gives parenting seminars on safety and nutrition, and teaches writing composition to
guide aspiring writers of all ages to make their dreams to write and to be published come true. Most
recently, Davis-Kyle worked some magic to help make Ready, Set, Action! An Entertainment Fun
Book for Parents of Dyslexic Pre-teens: Adventures in Writing & Performing come true for David
Carlson, whose dream is to help other dyslexics like himself.