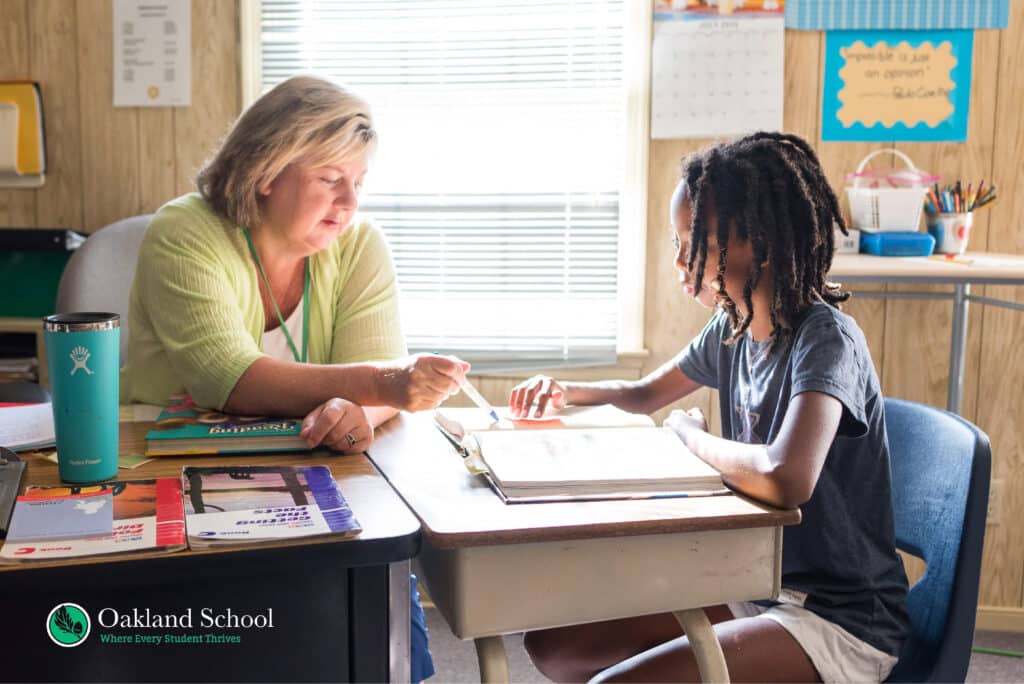 Written by Annie Lacey
Where: The Inner Universe of a Student With Divergent Learning 
It was not too long ago, when my bright, creative third grader began to dread going to school, meeting each weekday morning with resistance, which at times was fierce.

The human need to belong to a group is rooted in survival. School age children feel this instinct acutely – at home, on the playground, and of course, in the classroom. For many students with learning differences, the primary objective in a traditional classroom is not learning, but acting, so as not to appear unlike the others. And still, it is not uncommon for these students to be the bullseye for bullies. More frustratingly, efforts to help these students (special classes, tutors, adjusted seating, etc.) often serve only to further define the separateness and validate to the child that they are different.
I would know, I lived this through my daughter. I am the Director of Admissions for Oakland School, and my daughter, Hadley, is also a student here. I will never forget picking her up after her first day at Oakland School Summer Camp, watching her bounce into the car, gleaming, 'Mom! These kids are just like me!'
What I failed to fully appreciate until that moment was exactly how difficult her previous school experience had been for her.
I was witnessing a child who had just set down the cumulative weight of years of punishing self-talk because she was the only one in her class who couldn't keep up, had a tutor, and in her mind was un-like everyone else. At Oakland, Hadley discovered a place where learning did not equate to the emotional pain of embarrassment and struggle. Hadley was relieved.
Margaret Shepherd, the founder of Oakland School, understood that learning in a traditional classroom is strained, if not near impossible, for a child who learns differently. She believed when a child feels truly safe in their environment, they can flourish. In the summer of 1950, Shepherd converted her historical family farm into Oakland School, a small co-ed day school and overnight summer camp program for elementary through middle school students. Set upon a backdrop of rolling hills, forests, horses and other farm animals, Oakland began by first bringing children who didn't learn like everyone else, together.
How: Implementing The Oakland Way
Oakland School is founded on a commitment to the individual learner, and a community that backs this mission. Small class sizes and one-to-one instruction are hallmarks of an Oakland School Education.
At Oakland School children become confident self-advocates, curious learners, and grow moral character. 'Where every student thrives' is not just an idea, it's a promise we have been keeping for the better part of a century.
The Oakland Way is grounded in the belief that once phonics foundations are solid, confidence is established, and the learning process can accelerate. The program uses a synthesis of several pioneering approaches including:
Oakland School teachers are well versed in these techniques, and most have advanced degrees and specializations – and some, decades of experience working with children who learn differently. One example is Oakland School's horseback riding instructor, Sarah Bailey. For close to 30 years Sarah has been guiding Oakland students to respect, care for and ride a horse – helping these children to build confidence, set goals, focus, and work as a team. Believing children can – and will – attain success is at the core of an Oakland School education.
As Director of Admissions, the best part of my job is giving prospective students and their families a tour of the grounds. Oakland School, once just an 18th century farmhouse with outbuildings set on 450 acres, is a welcoming environment in every sense. Class sizes are small with an emphasis on multisensory and experiential learning. Foundations are built through individualized learning plans that are calibrated regularly. Children work at their own pace and to their own strengths.
Almost always on our tours we see a teacher working one-to-one with a student, children working independently or in small groups – with at least one volunteer eager to share what they love most about Oakland School. It is usually at this point of the tour, when, just like my daughter, the prospective student and family realize that learning can – and should – be a wonderful experience.

Category: Dyslexia